Roadtrip 2015: Yellowstone and more, part 3 - The Hike
Posted by: o'wolf 7 years, 9 months ago
Thursday, 2015-09-17: Hiking to Shoshone Lake
They say you can experience four seasons in one day in Yellowstone. Except during Winter, if I may add, as then there's only Winter. But we went there in late Summer. And while it was mostly warm and dry during our stay, of course it had to be cold an wet on the day we started our two day hike to Shoshone Lake. Thankfully, we were prepared for (almost) everything.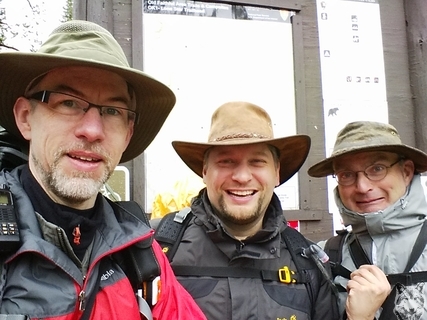 At Lone Star trail head when we were still laughing…
During the drive to the Lone Star parking lot it was raining heavily, with some snow flakes in the mix, but when we started the hike down to Lone Star Geyser along the Firehole River, it eventually stopped raining. Unfortunately, at the Geyser it started raining again, and for the rest of the hike it was a mix between rain, sunshine, and even snow.
The temperatures were quite varying as well. I was wearing a short sleeve cold gear lycra shirt, a long sleeve fleece jacket, a synthetic fishing vest (pockets! I need pockets!) and a light raincoat. Further more, heat gear lycra shorts, heat gear lycra long tights, light synthetic trousers as windbreaker. Most of the clothes were cheaply bought at Decathlon, except for the underwear (Under Armor) and the raincoat (Columbia Sportswear). Not to forget my Tilley Hat that I bought a couple of years back in Zion Nat'l Park for a bargain (as I later found out), a pair of bicycle gloves and a pair of woolen gloves. This combination is comfortable down to -5 °C, for me at least. And if it gets too warm I can shed or recombine layers as needed. That part of the plan actually worked.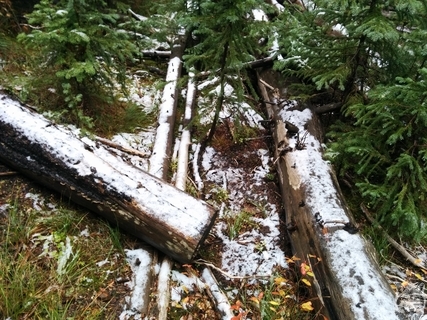 The snow on the logs should've warned us...
What I didn't expect was that the trail from the geyser to the lake was almost completely under water. There is an approximately 10 cm soil on the rock, and none on the actual trail. There is no place the water can go. While my hiking boots are reasonably water proof, they aren't gumboots. Wet feet on a hike are annoying.
Most part of the trail is rather boring, being a dark conifer forest with little ground vegetation. Even the warning calls of the red squirrels get tiresome after a while. Or was it the same squirrel following us through the park? The forest looks quite like those we have at home. Indeed, there is a connection between Winter, conifers, squirrels and grizzlys: The trees support a very large population of squirrels, which maintain caches that get raided by the bears to survive through Winter, resulting in the squirrels collectinng much more than they'll need - and fiercely defending their territory. At least they didn't throw cones at us like those at Grand Canyon. The leftover seeds will sprout in Spring, resulting in a dense forrest with many squirrels and happy bears.
Approaching the lake the forest gets sparser and more diverse, with meadows along the creek. We saw a juvenile great grey owl there.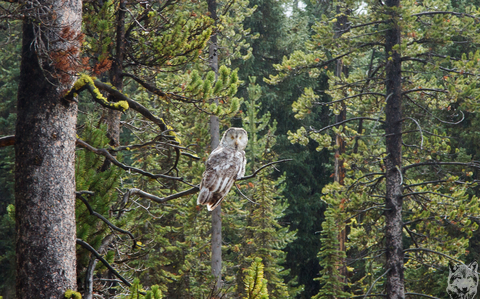 Great grey owl (Strix nebulosa, juv.)
At the lake we explored the geyser field at Shoshone Creek before we proceeded to campground 8R3. The tent area is a bit up the mountain, but the cooking area is directly at the lake. Very scenic, and initially great weather even.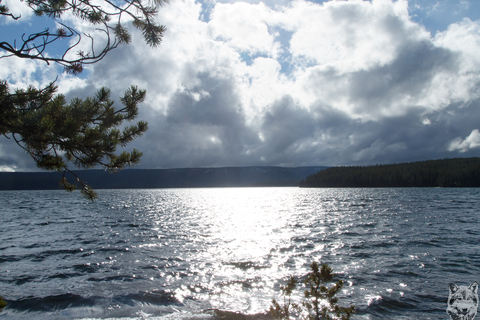 Shoshone lake from campsite 8R3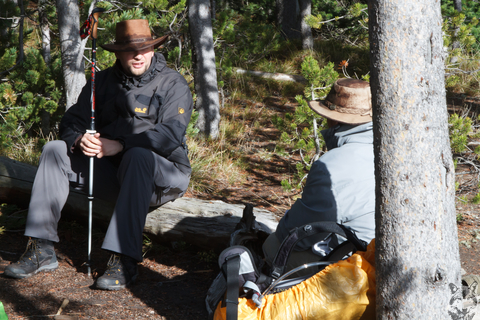 Lynard and Kayjay chatting
So we set up our tents, made dinner (Ramen again, yay) on Kayjay's stove, even though we accidently bought petroleum instead of denatured alcohol. It worked nevertheless, but cleaning the stove and the pots later was quite some work. And just before we could make some tea, a strong thunderstorm was approaching over the lake. So we rapidly secured our equipment, just in time before a hail shower poured down on us, and waited near our tents for the bad weather to pass. A cup of tea later, and after pulling up our backpacks on a pole to protect them from bears, we went to bed early.
I woke up a couple of times during the night, listening to elk calls, but it was an uneventful night otherwise. Surprisingly, I wasn't even cold, my sleeping bag was just right for the slightly freezing temperatures. Lynard, however, complained the next morning that his was a bit too cold.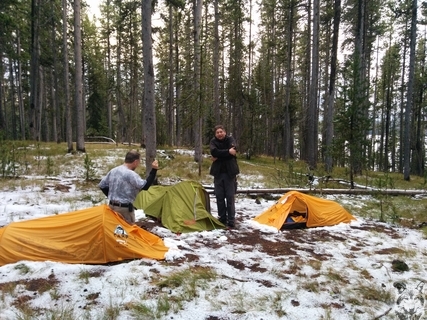 Friday, 2015-09-18: The Hike Back
We woke up to Winter wonderland. And elk hoof prints in the snow. We made some tea and, guess what, ramen for breakfast before we packed up our things, ignored the angry squirrels, and moved on.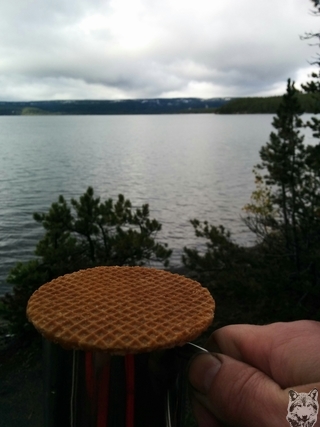 Thanks Pegla for the stroopwafels!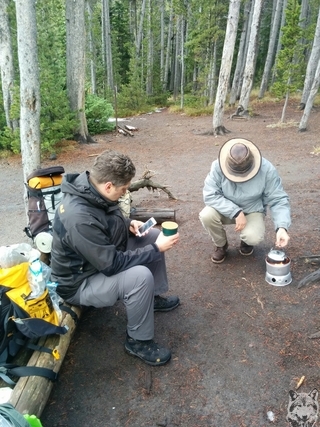 Lynard checking the GPS during breakfast
The trail eventually leads back to the lake shore, where we saw a beaver taking a dive. At some points the trail isn't very well marked, and we had to cross some creeks on wobbly logs. I'm still amazed that nobody fell into the water.
From the lake we took the Delacy Creek trail... Wow, what wonderful scenery! And the sun was shining, so I eventually had to take off the fleece vest and the tights. If you only want to take a day hike, the Delacy trail is highly recommended. The parking lot is on the other side of the trail head on Grand Loop Rd. I'm not quite sure, but I think we saw an osprey in the area.
Not so wonderful: to get back to the car. Which means walking several miles on the side of Grand Loop Road. Supposedly Spring Creek trail departs from Dive trail just after bridge, but we weren't able to find it. So even more walking along a busy highway with motorists completely unused to pedestrians... The Eastern section of Spring Creek trail just doesn't seem to exist, at least no indication of it from Spring Creek picnic area. But at least the Western part exists and is properly marked.
Even though the trail is rather difficult to hike in places, with "bridges" (a bunch of logs, again) of the creek being in disrepair, the trail leading over a landslide that doesn't look very stable, it is purely magical, especially in the evening sun. No point in even trying to photograph it, it's something you have to enjoy yourself. This trail is one of my favorite places in Yellowstone.
It leads back to Lone Star road. I have to admit, having a backpack of 20 kg weight on my back for two days is not something I'm used to, but wasn't as bad as I feared. And some friends are complaining about their military service when they had to carry that for a couple of hours when they were 19. Seriously?

First day (orange): 20 km / 12.5 mi, second day (yellow): 26 km / 16 mi
A surprise at the barrage of the Firehole River: a massive bison bull trotting along the road. Not risking anything, we slowely backed up and let him pass. And didn't try to take photos either as that might provoke him. Fortunately, he didn't take much notice of us. Just the squirrels kept complaining.
Exhausted, we finally got back to the car and drove to the cabins, took a shower, drank a beer, and... I don't remember the rest, I think each of us just fell asleep.