Roadtrip 2015: Yellowstone and more, part 4 - West Yellowstone and Yellowstone Falls
Posted by: o'wolf 7 years, 9 months ago
Saturday, 2015-09-19: Mystic Falls
At least my foot was relatively fine. It hurt, but differently than before. A sore neck due to the backpack, never mind. But we probably shouldn't overdo it. So, what to do? Sizzling Basin sounds good, so we went there and... Oops, that's Mud Vulcano, we've been there before. Okay, back. Hmm, Gull Point Drive, that might be a nice detour. And indeed, it has a very nice view on Yellowstone Lake. Next, West Thumb. Pools, springs, geysers. Partly in the lake. A bit overrun by other tourists.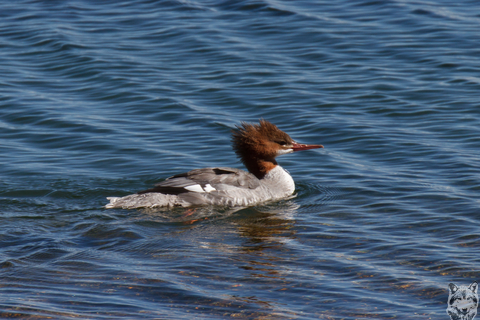 Common merganser (Mergus merganser, f) at West Thumb
The diner at Grant Village was closing for the season that afternoon, last chance for a burger, so we had lunch there. Very tasty and not too expensive considering the location. But that was only half a day, what else to do?
Black Sand Basin. Parking lot full. Okay, Biscuit Basin then, taking the Fairy Creek-Little Firehole trail up the mountain, being rewarded by a spectacular view across Upper Geyser Basin (Old Faithful area) and complaining squirrels.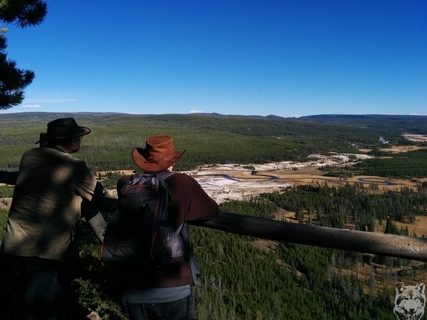 Kayjay and Lynard enjoying the view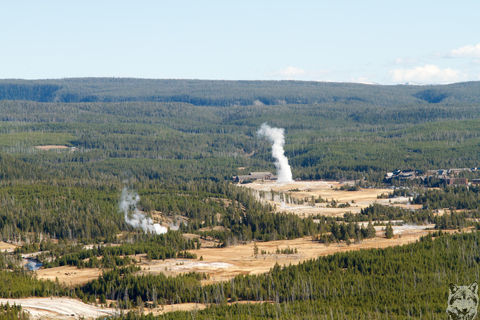 The Mystic Falls Trail lead us down the mountain and past the falls, though the light would've been better in the morning.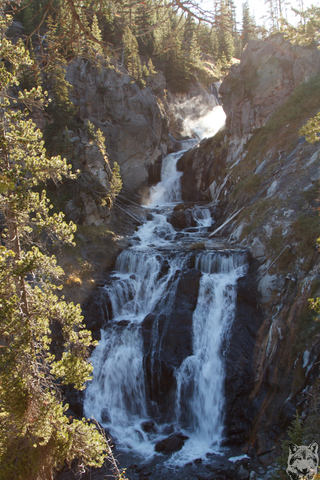 Mystic Falls
However, the light back at Biscuit Basin was perfect.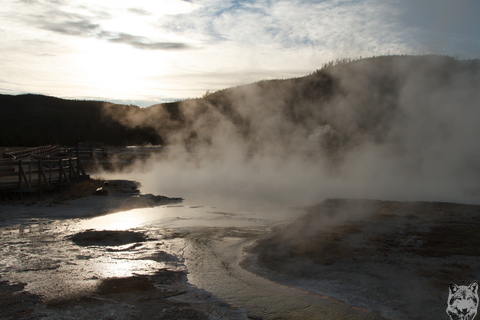 Sunset at Biscuit Basin
On the way back to there was a traffic jam due to wapiti left and right to the street. We got some nice photos of the bull. You'll rarely get that close to red deer in Europe, and if you do, you'd better leave. Of course, we kept more than the required  minimum distance.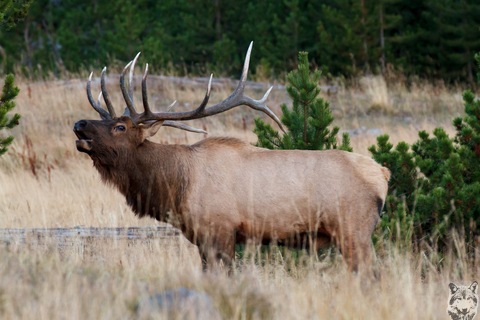 Americans call this animal Elk, but it's Wapiti (Cervus canadensis)
Sunday, 2015-09-20: West Yellowstone
Okay, no more strain on my foot! We need to go shopping for groceries anyway, and since WLAN in the park is outrageously expensive and T-mobile mobile data roaming in Wyoming and Montana doesn't work with prepaid contracts, I'd really like to visit some fast food shop with free wireless. And since there is a small zoo in West Yellowstone, the Grizzly and Wolf Discovery Center, let's go there! But on the way we stopped at Midway Geyser Basin for a look at the Grand Prismatic Spring. Which was still steaming heavily and due to that we only got a glimpse of the brilliant colors you'll see on photographs.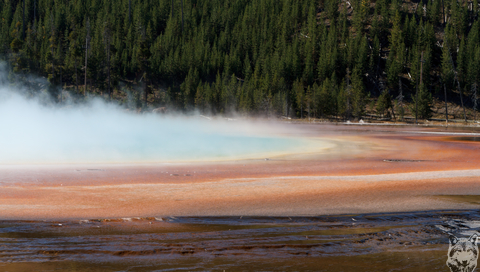 Steaming Grand Prismatic Spring
But we saw a herd of bisons passing through, and a horde of tourists making selfies with the animals. At least they stayed on the boardwalk, and the bison stayed on the field, but still. Don't turn your back to a wild animal.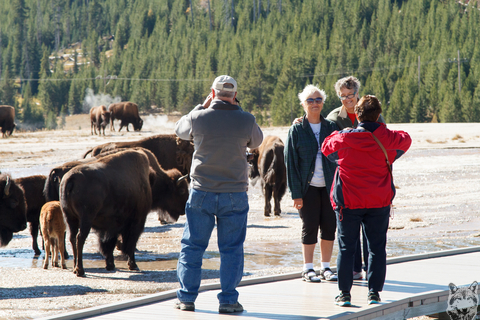 Don't do that

West Entrance Road is along Madison River is actually quite nice, but rather busy. West Yellowstone is a tourist trap, but at least we got our groceries, beer, some stamps, dropped our postcards at the post office, and visited the Discovery Center, which is actually well done. The grizzly bears are all problem bears or came to the center as cubs of bears that were killed (for various reasons).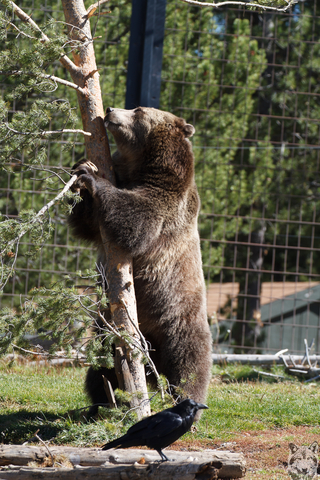 Grizzly (and crow) at the Discovery Center
No information where the wolves are coming from, but they are keeping them as pairs, which is the right thing to do. They have a number of birds of prey that aren't able to live in the wild anymore due to injuries that keeps them from flying properly, which is acceptable.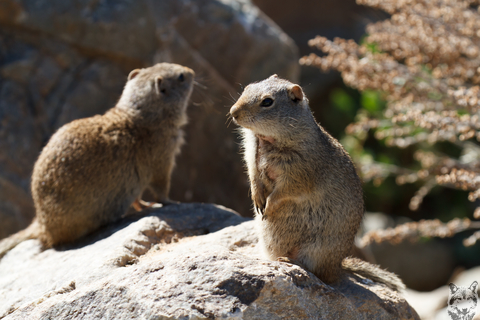 Their Uinta ground squirrels (Urocitellus armatus) are cute.
On the way back we climbed the boardwalks of Mammoth Hot Spring Terraces. So much for being careful with the foot. But it is amazing, we've left the valley, in fact we're on a mountain, and still there are hot springs.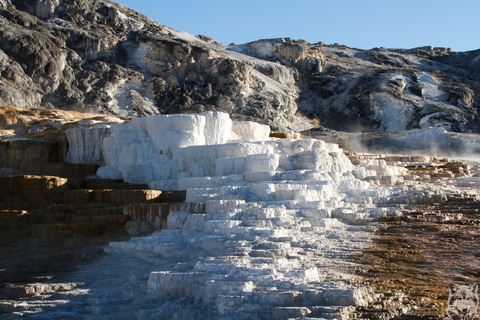 At Mammoth Spring Terraces
And again a scenic drive, with Bison stopping us in the middle of Mammoth, and again a stop at Hayden Valley. Unfortunately, the wolves just disappeared in the forrest after a young one reportedly catching a crow, but, near the treeline, a grizzly bear is taking a stroll. Too far away for a usable photo even with the 400 mm lens, but definitely a grizzly. How cool is that! And quite honestly, I don't want to be closer to one. Driving further, looking through the window, I see a bald eagle flying. Wow.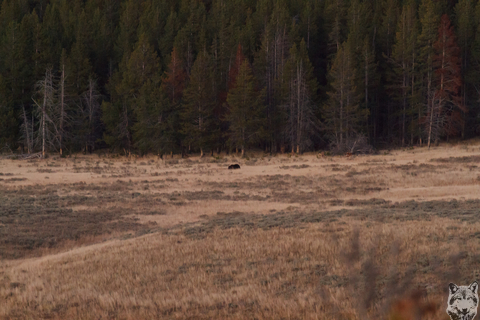 Spot the Grizzly bear (Ursus arctos horribilis)
Monday, 2015-09-21: Grand Canyon of the Yellowstone
If Korean bus tourists are annoying, the Chinese bus tourists are outright obnoxious. Especially at main attractions such as Artist Point. Granted, we never travel when German bus tourists are around, I expect those being even worse. Is it something that bus tours do with people, or are the worst tourists from each country those who are booking bus tours? Anyway, the Japanese group was traveling with several rental cars and behaved well, the Germans and Swiss we met on our trip were those of the kind you actually enjoy sharing your holiday with.  There are only few Americans outside the Memorial Day to Labor Day time frame in the park. Those who leave their car are very pleasant to talk to. Those just
driving through the park and observing bison from their car parked on the street I'd rather not talk to, because at times I  was close to biting those idiot's heads off. Bovines along the street, bovines behind the steering wheel. But I digress.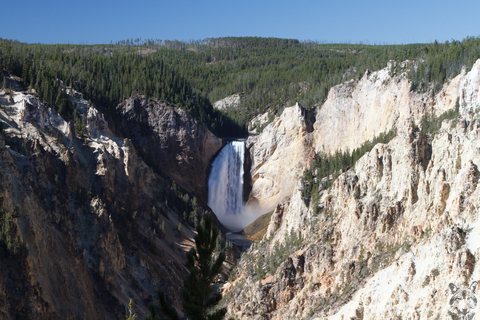 Lower Falls from Artist Point
Artist Point is crowded. Badly. But as soon as you follow the trail behind the end of the pavement to Point Sublime you're virtually alone - with the squirrels, of course.
While the name "Grand Canyon of the Yellowstone" probably sets wrong expectations, the canyon is scenic indeed, and it's signature yellow rhyolite makes in unique. Apparently, the color is due to oxidation of the iron compounds that are found in the rock
Oh, Uncle Tom's Trail. They say it's very strenous due to the many steel grating stairs. That wasn't my problem. I'm afraid of heights and those stairs were pure horror for me to climp down. Though we were rewarded with a great view on the Lower Yellowstone Falls. But you won't believe how fast I climbed the stairs up again on the way back.
Next, Upper Falls. Nice. And then we wanted to go to the Brink of Lower Falls, but for some reason ended up on the North Rim Trail and took the Lookout Point, also quite crowded, and the Red Rock Point. Finally some calm corner, with a nice view of the Lower Falls along the canyon. As Inspiration Point was closed, we just spent a couple of minutes at Grand View watching the crowd at Artist Point on the other side of the canyon...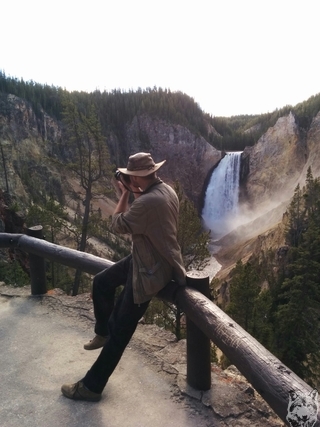 Kayjay at Red Rock Point
It was warm, we were tired, nobody wanted to hike any further, let's hit the road again. Along the main roads there are some short loops: Virigina Cascade Drive along Gibbon River, though no real chance to stop at the cascades. Firehole Canyon Drive along Firehole River, where we regretted to not pack our swimming trunks, as there is one of the few places in the park where swimming is allowed. Firehole Lake Drive, with a great evening mood at Black Warrior Lake and Hot Lake.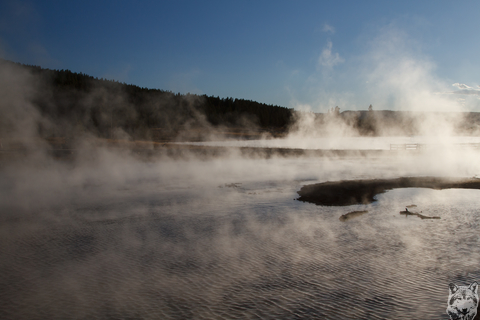 Sunset at Black Warrior Lake and Hot Lake
Near Midway Geyser Basin we actually had Bison on the road and both sides. It took a while for the herd to make up their minds where to go, but even then the traffic was stuck, because some two-legged bovines just didn't move their car.