I've been traveling the United States for many years, but where does my fascination with that country come from? There are, of course many aspects. America has a great cultural influence on Germany. American TV shows, movies and music are ubiquitous here, though they are giving a skewed picture of the country. History is also a reason. America had a strong military and political presence in Germany after the second world war. The existence of West Germany pretty much depended on America's protection — a protection that was based on more than just their own political and economic interests. The appreciation for Germany, in a cultural, not political way, goes way back into American history. Like those from other countries such as Ireland or Italy, German immigrants to America never lost the connection to their families back in Europe. Some German immigrants even had an important role in America becoming a "real" country, but are virtually unknown in Germany. I'll briefly get back to that aspect later.
Family ties were actually the reason for the vacation back in 1976. Some time in the early 70s, Alice, a cousin of my father, and her husband John were visiting my parents. Of course they invited us back to visit them in New York City. So we went, my parents, my two years old sister and me, four years old. My earliest childhood memories are from this trip. We just found the fading and dusty slides (remember slide photography?) from that vacation again and my father scanned them for me. While my memories from the journey obviously aren't that detailed and complete, I hope my musings are entertaining, and maybe even educational. Keep in mind though that this report is written entirely from a white middle class point of view, as that's my family's social background. This perspective is heavily skewed. My conclusion at the end is an often bitter reality for many Americans of different ethnicity or social status.
Getting There
I don't remember anything about us four driving to Frankfurt. Driving more than 500 km with four persons in a VW Beetle was quite strenuous, especially when two of them are small children. I never cared, even back then, but my sister hated being driven in a car as a child. Thus, we made four rest stops during the drive.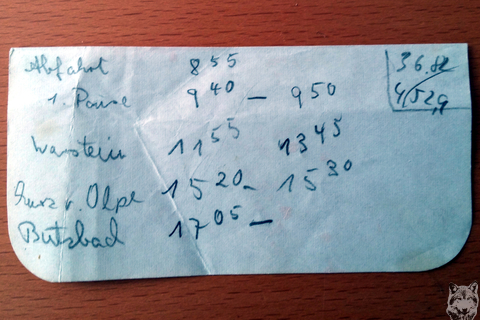 For example the one at Wildpark Warsteiner Bilsteinhöhlen: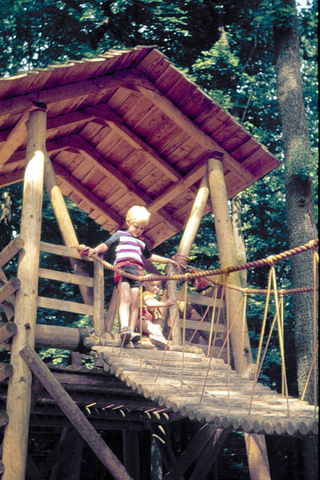 It looks like I didn't suffer from vertigo yet back then. For the night before our flight we stayed at Arabella Hotel in Frankfurt, now the Sheraton Frankfurt Congress Hotel.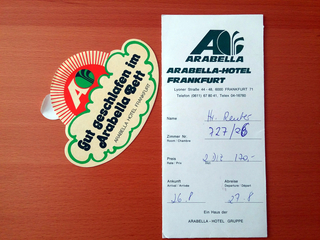 Apparently, the flight from Frankfurt to New York JFK was uneventful. According to my mother I slept through much of the flight. Contrary to my sister, who reportedly didn't like the flight at all. The flight was Pan Am 373, and while I haven't found any documentation for this particular flight on August 27, 1976 I assume we flew with the Clipper Sovereign of the Seas, as an entry on Airliners.net states that it was in service on that line at that time. I remember stairs to the upper deck of the plane, so it definitely was a 747. Another thing I remember was arriving in the rain, though shortly before landing the weather was still fine.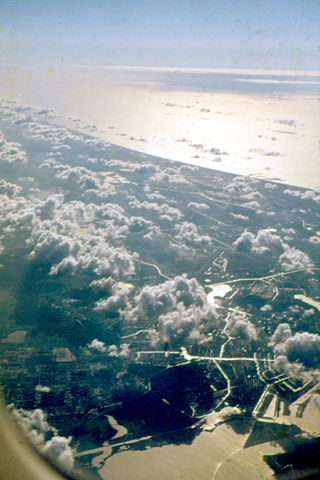 There are claims that flying has become so much cheaper during the last decades, but I don't feel a difference. We paid 770 DM for each person, plus 60 DM airport fees, which is approximately 1000 EUR (1200 USD) today. That's very close to what I'm usually paying these days. Granted, the 770 DM was a special price, regular prices were 50% higher back then, but then again I'm not paying list prices today, either.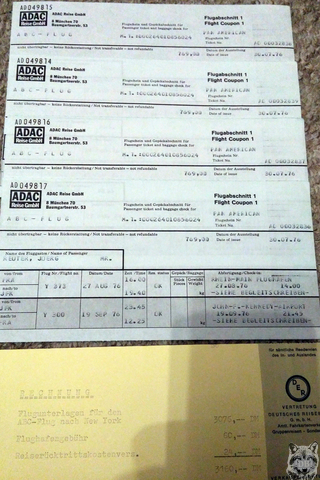 Another thing that hasn't changed: flight tickets between Europe and America are more expensive if booked in America instead of Europe. John was working for Pan Am, but even considering employee rates it was cheaper to book the flights in Germany.
Familly Stuff
Alice and John were living on Long Island in a neighborhood called Valley Stream. This was their house: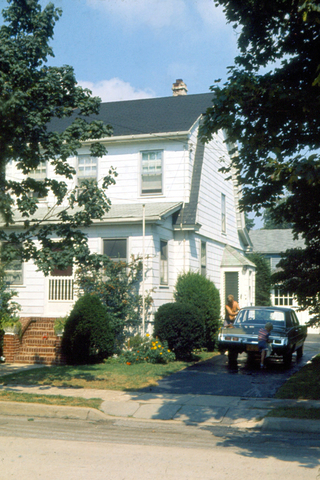 The small garden pond my sister is bathing her feet in is the reason my parents are having a garden pond too.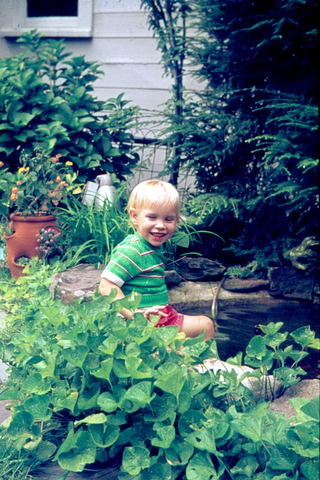 John had a small boat that he let me steer. Well, for a minute or so.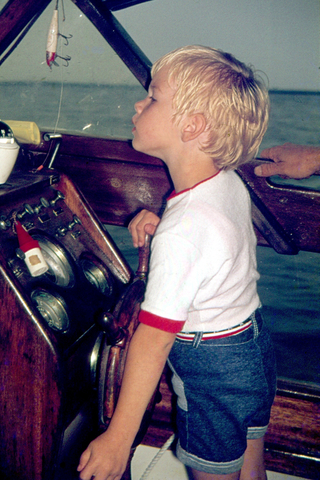 I remember collecting sea shells on a small island between Long Island and the barrier islands, but here we are catching bait fish.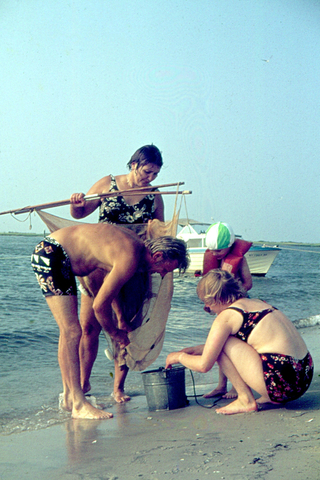 The home of Alice's daughter Linda and her husband Tony was sensational, at least for us Germans at the time. My mother and we kids apparently had a lot of fun at the pool

Who had a pool like that in Germany? Or just the patio, even?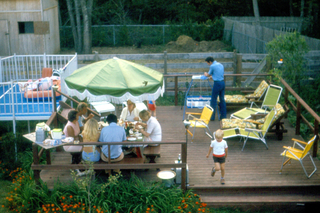 Most of it was self-built, as were many parts of their house. Talking about the house, let's go inside and watch some TV. Does anyone recognize the show?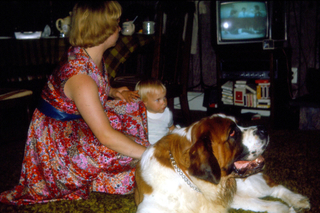 The dog's name was Cleo, by the way. I forgot the name of the horse, and we do not have any photos of their cat during our visit. The cat was the boss of the household.
Alice, John, Linda and Tony eventually moved to the Catskills after John's retirement, but that's a story for another occasion.
Things Gone By
What are you doing with two small kids after a long intercontinental flights? Visit amusement parks! We visited Nunley's Carousel and Amusement Park, which operated until 1995 and the carousel itself still exists at a different location. The picture is labled as Nunley's Carousel in the box of the slides, however it shows most likely the carousel at Sterling Forest Gardens, as the slides before and after it definitily are from there.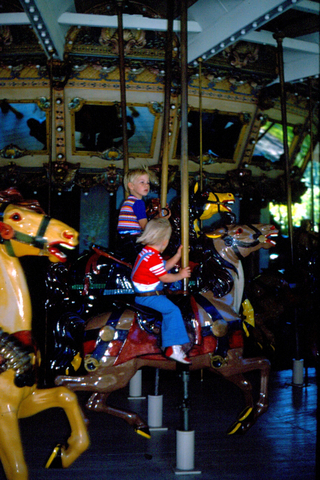 Sterling Forest Gardens not only closed for the season just a few days after our visit, but for good. Those huge development plans the newspaper mentions were never realized, the amusement park became the location of the New York Renaissance Faire shortly after that article was published, and it still is. The greater area is now a popular state park.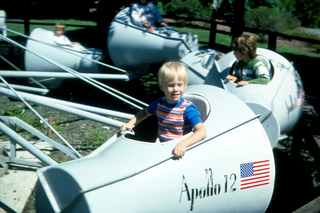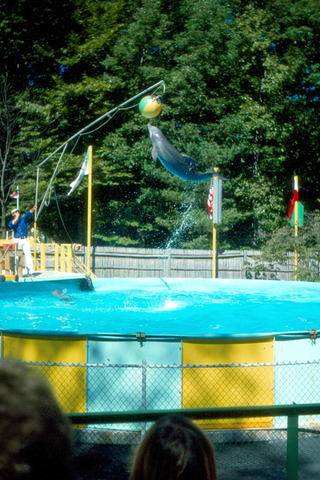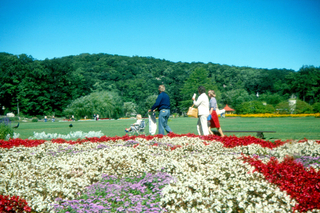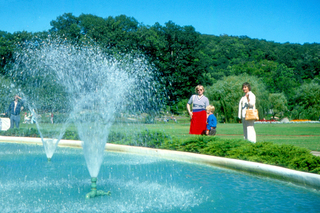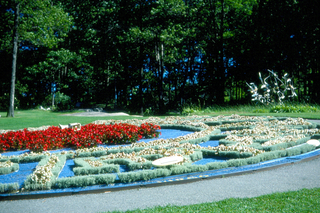 Old Village Bethpage Restoration was on the brink of getting closed in 2009 but surprisingly it still exists.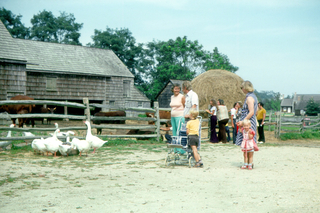 I have no memories of this place, though.
Hudson River
I don't remember that we went to New Jersey. But these are my mother and my sister at the Rockefeller Lookout on Palisades Interstate Parkway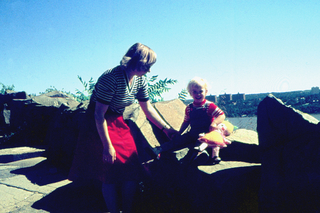 Something most Europeans aren't aware of is that while Lower Manhattan is only slightly above sea level, the riverbanks of the Hudson to the West and further up North are rather steep. The parkways East and West of the river are very scenic. The Palisades Pkwy is something I'll certainly consider revisiting next time I'm in that area, even though this is one of the stops I don't have any memory of, either.
NYC
Well, New York, NY. What can I say. Harbor cities are my favorite cities. There is something about them that makes me feel at home immediately. New York City is one of these. Even though I visited it only twice in my life so far. 1976 and 2016. Let's start with a boat tour. In reverse order, for a reason.
Midtown from East River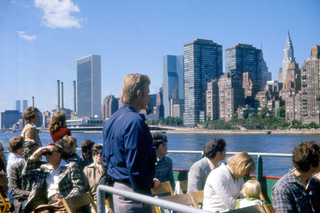 Brooklyn Bridge and Lower Manhattan from East River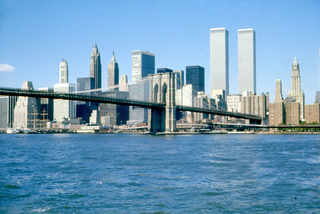 Lady Liberty in the background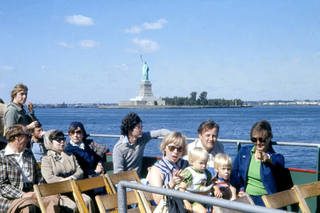 We actually visited Liberty Island and the Statue, but I haven't found any photos of that.
The Twin Towers of the original World Trade Center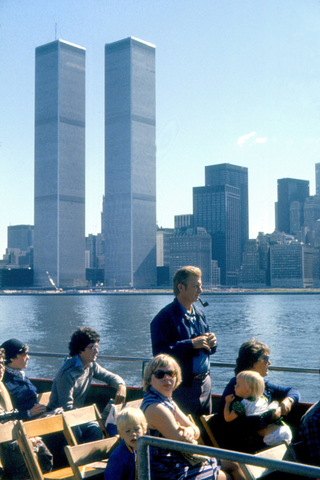 Here we are waiting in line for the tickets to the WTC observation deck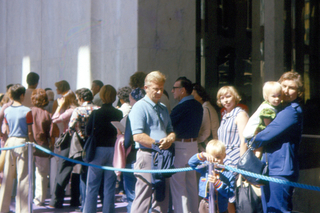 We still have the tickets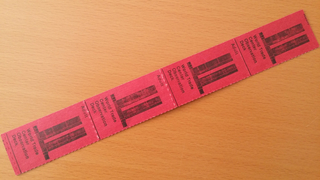 Brooklyn and Manhattan Bridges from the observation deck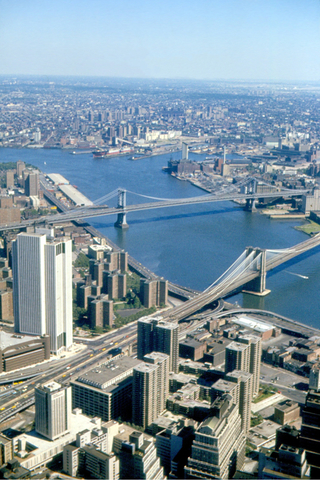 My father holding my sister, John with the binoculars, Alice holding me on the top of the World Trade Center. As you can see my sister didn't like it up there. For me it was just cold and a bit too windy. But being up there is one of my clearest memory of the whole trip.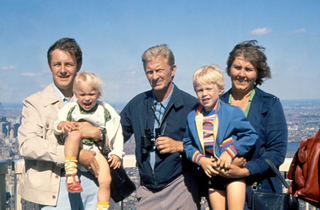 Almost exactly 25 years later some idiots tore down that building in a terrorist attack, killing 3000 people. It still hurts as hell. But my memories are mine, they can't destroy them.
40 years after the photo was taken I went back and visited the new One World Trade Center. As strange as it sounds, it gave me solace and satisfaction. I had to do it.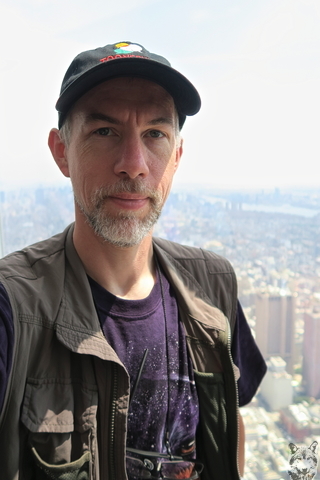 On a lighter note, here's the four masted barque Peking, a year after it arrived in New York to be used as museum ship. My memories about that ship are faint, all I remember that there was a sailing ship.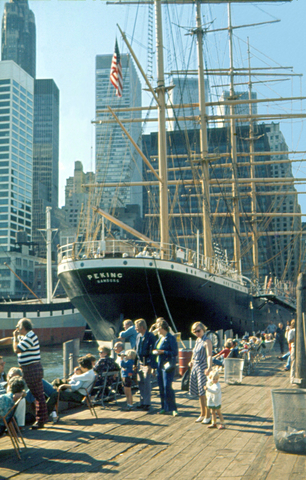 However, when I returned forty years later I immediately recognized the place by its smells and atmosphere. This is the Peking in 2016, a year before it was transported back to Germany where it was built.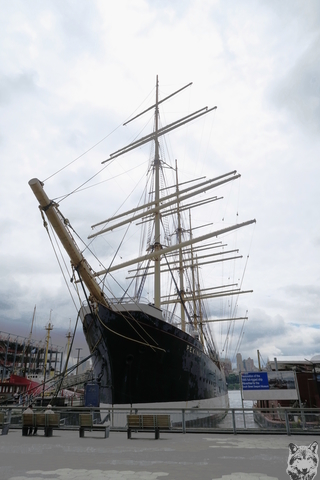 In the meantime, the Peking has arrived and at the time of writing it is under restoration. Afterwards it will be on display in Hamburg.
Apparently we also visited the Bronx Zoo. Nobody of us remembers that, though.
Boston
We went to Boston and apparently visited the aquarium. The only thing I remember is this incident on the drive to Boston, though: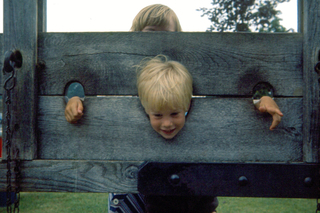 Someone please call the CPS! Oh, never mind.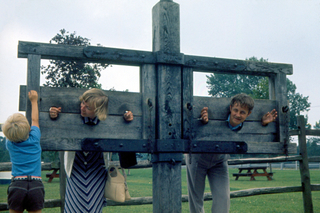 Does anyone have an idea where that may have been? I have no idea whether it was still in Connecticut or already in Massachusetts.
This this is probably where I jammed my finger with the door of the car: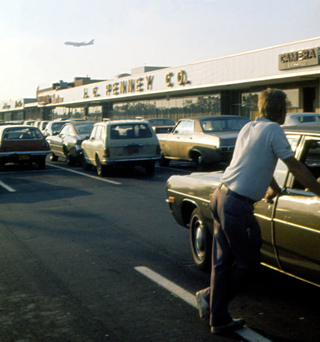 Strip malls looked a bit different back then.
Toll plazas are slowly becoming a thing of the past (unfortunately not the tolls), but back then you always had to fumble for some dimes and quarters.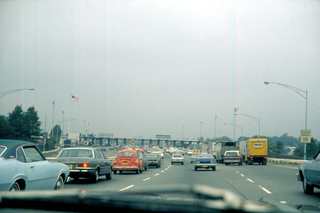 Streetview 1976. Google Image search by the way brought up nothing, however a regular Google search reveals that we were driving Connecticut SR 15 ("Wilbur Cross Pkwy") and the tunnel is the Heroes Tunnel crossing West Rock Ridge State Park.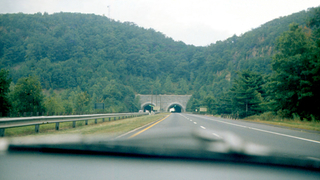 Perching!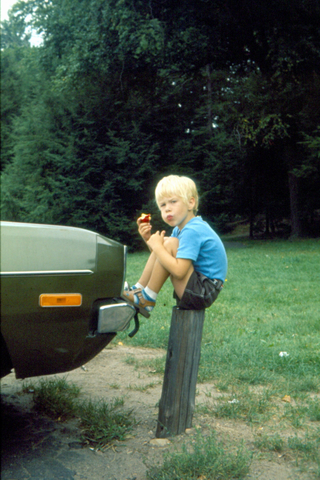 I remember that at least one of my grandmothers had a print of this photo on display, but I never knew when it was taken. Finding it in this series of slides solved that mystery.
Steuben Parade
Back in NYC. There is an annual parade of descendants of German immigrants honoring General von Steuben. If you are a German reader, you may ask "von …who?" and you are right, he is virtually unknown in Germany. Friedrich von Steuben was a former captain of the Prussian army who, after conflicts with superiors, was transferred to a very unattractive post in the Lower Rhine area. Rumor has it that his defiant behavior was the reason for what he must have perceived as a disciplinary action. Von Steuben was discharged (honorably) from the military when the Prussian army was downsized. After working as an administrative officer of a small and broke state in Southern Germany for a couple of years he immigrated to the US as a volunteer military adviser — implying to Benjamin Franklin that he was a "Lieutenant General in the King of Prussia's service". Franklin subsequently stated that rank in a letter of recommendation to the Congress and George Washington. Some say this was due to a wrong translation from German via French to English, but I don't buy that. Von Steuben supposedly also wore a uniform resembling that of Prussian general when he reported for duty.
In the American Revolutionary War war he joined an inexperienced paramilitary group attached to the (militarily irrelevant) Continental Army which he brought to success by training them with the same drill methods as the Prussian military was using. Eventually he was promoted to Major General by George Washington.
While the Continental Army actually won the battle of Monmouth thanks to his tactical knowledge, it wasn't really relevant for the outcome of the war. Yet he left such an impression that his methods he learned from the Prussian army laid the foundation for what is now the American military. America likely wouldn't be a global military and political power today without Friedrich von Steuben. This is probably one of several reasons why braggarts and con men are so popular America. And every now and then they even elect one as their president…
As General von Steuben is one of the most famous German-Americans, the committee of the New York parade of Americans with German heritage chose his name for the parade. Despite the name of a member of military, it is not a military parade but highlights aspects of German culture. The organizers of the parade do not only invite American groups who are preserving their heritage. Several Carnival (mardi gras) groups and Trachten groups from Germany are frequent guests. Some impressions: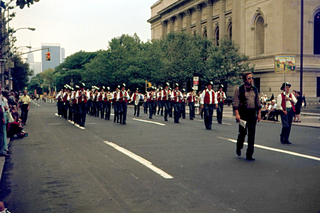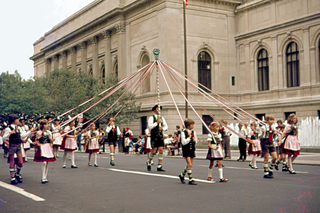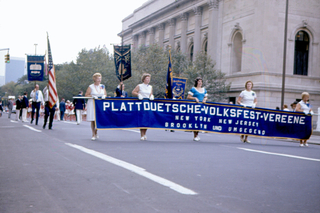 This masked member of an Alemannic Fastnacht group picked me up. I didn't care about the mask, but I really hated getting picked up by strangers.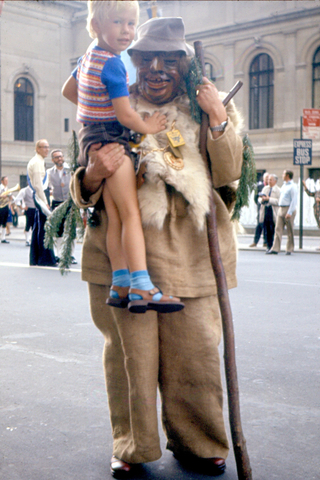 Wait what?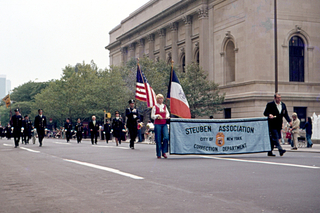 Flight Back
The flight back from JFK to FRA was with Pan Am 300 on September 19. Boarding cards looked differently back then: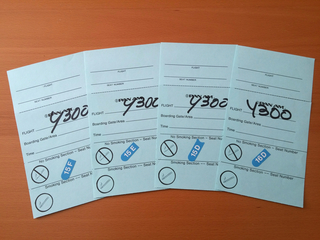 And just look at the colors of the seats: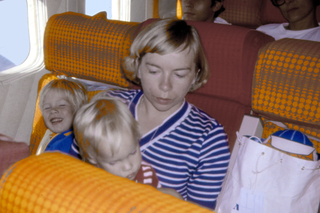 It doesn't get more 70s. And thanks to this photo I know the type and name of the aircraft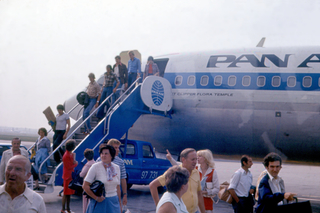 The Clipper Flora Temple was a Boeing 707-320B (build number #20026), N887PA.
This concludes our short journey back in time. There are some gaps in the timeline I cannot close due to lack of photos and missing written documentation. There are some family matters I left out that would only be boring to a general audience. I am amazed how accurate my memories were, except for a single one I wrongly attributed to this trip for years. And while the photos are fading and everything looks so far away in history, if you look closely and compare it to today: a lot is still as it was back then.
In memory of Alice, 1926 - 2017 and John, 1925 - 1998
Photos: Copyright 1976 U. Reuter, M. Reuter, et al.; Copyright 2016-2018 J. Reuter