Bardentreffen 2008
Posted by: o'wolf 12 years, 4 months ago
Another year, another Bardentreffen in Nürnberg. It was last weekend, to be exact. lynard_ and doco stayed at my place, reasha and her boyfriend came from Bayreuth to join us on Friday night. The festival was even more crowded than ever and I had several loud arguments with idiots that were squeezing themselves between us with raw force.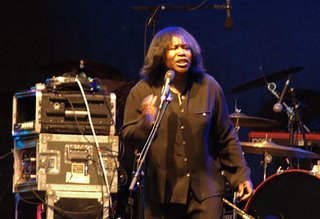 Joan Armatrading
However, the weather was excellent, and also were many of the bands and artists. On Friday night, we watched Roy Paci & Aretuska. Italian Ska, a bit unusual perhaps, but a very nice cross-over of styles. Lots of fun and a remarkable light show.
The first act on Saturday we saw was Winslow from Nürnberg. The influence of the Eagles is quite obvious, alas they are influenced more by Glenn Frey than by Don Henley. Winslow is best when they play their own style, though. Additionally, while they are really good soloists, I had the impression that they aren't quite there yet as a band. And the lead singer really should refrain from explaining the songs. Put some trust in the music, it is good enough.
Vandes is a young group from Breda/NL and Nürnberg. What a pleasant surprise! College rock at its best. Move over, Counting Crows and Goo Goo Dolls! If Vandes were an American band, they already would have their place in the charts.
And then the concert of the festival. Joan Armatrading and band. Wow, that woman rocks! While I'm not exactly a blues fan, her blues rock is amazing, and so is here guitar playing. What a concert!
The last concert on Saturday were the Leningrad Cowboys. A great show and probably the best hard rock cover band ever. Excellent entertainment, and thank god I had my ear plugs.
Sunday, by contrast, wasn't that sensational. Sandy Dillon was in fact quite disappointing. Her voice does not have the capacity for the coarse singing she does, many things she tried may work in a studio, but not on stage. What made it unbearable was that the guitar player was constantly out of sync. We left after three songs.
Liberty Pike by contrast were extremely good. Country music, especially bluegrass, usually isn't my cup of tea at all. However, with those five excellent musicians, song writers and harmony singers on stage, even I cannot help but keep on listening. Probably I didn't like bluegrass before because I just had heard it on the radio, while in fact it is music that needs to be played live. Preferably near the Mississippi on a warm humid summer day, but a warm dry summer day at the Pegnitz also works...
A harmonica quartet? Why not! Sväng are four virtuoso harmonica players from Finland, playing anything like swing, Finnish and Russian traditional music, jazz... Great arrangements, great music. However, the Katharinenruine was extremely crowded, the air was stifling, so Doco and Lynard had to leave the building even before the concert began. I managed to survive half of the concert before I had to leave, too. So we heard the rest of the concert from outside the former church.
And finally, a less than stirring performance by Midnight Court. Usually, I adore Irish folk music. However, this band was a bit too bland for our taste.
All in all it was a very good Bardentreffen again, although the audience was far too large this year and the programming had almost all interesting acts concentrated on Saturday, in parallel even. I don't know if I'm going to be there next year, as it likely will conflict with my holiday plans, but Germany's largest world music festival is certainly one of the highlights of the year.