Califorina 2009: Yosemite Nat'l Park
Posted by: o'wolf 11 years, 2 months ago
We got up almost early, had breakfast and drove to Yosemite National Park. The weather was great again, far less snow and ice on the roads to the park than last year, and only some sorry rests of snow in the park itself. First stop was the Yosemite Valley Panorama Point. Perhaps a bit early, as the Bridal Veil Fall was in the shadow.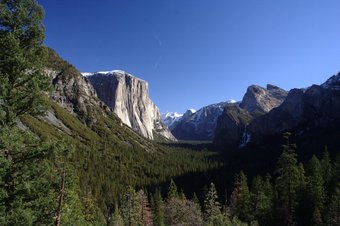 The trail to the fall itself was too icy to get to the platform, Lynard has a better sense of balance and almost got there, I gave up before. After a trip to the souvenir shop, we visited the Yosemite falls. There was excellent light for photography this year, and more water than usual. Unfortunately, this didn't apply to the Mirror Lake, but the 8 km hike with small obstacles was very refreshing and fun. We even got back to the car before sunset.
I'm a bit concerned about the front right brake of the car, which makes funny noises. The brake pad looks good from the outside, but the scratching sound gets worse, so I suggested to Kayjay to take highway 140, which took just 30 minutes longer than the icy highway 120 with its narrow slopes. We had dinner at an In-and-Out burger restaurant in Modesto, and checked in to a room at a Motel 6 in Sacramento for the night.