California 2009: Knights Ferry Bridge
Posted by: o'wolf 11 years, 3 months ago
We checked out late in the morning and headed for Yosemite. Since driving from San Jose to Yosemite Nat'l Park takes too long to actually do something reasonable in the park, we took some time to visit the Knights Ferry Bridge. It is one of the few remaining covered wooden bridges in the US and really worth the stop.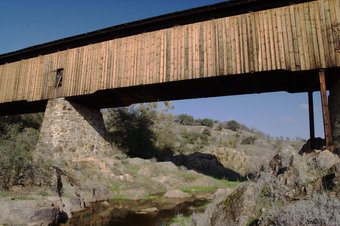 The bridge is located almost directly at the CA 120 in Knight Ferry.
We are now at the Hotel Charlotte in Groveland. It is a vintage style hotel, and some of the interiour really is as old as it looks. But well preserved, clean and tidy. One of those gems you probably wouldn't expect in a tourist trap. Just like the mexican food restaurant next door. Mexican cooking usually is a bit bland, in my opinion. This restaurant is one of the few exceptions. Very tasty and original food, nice staff, reasonable prices. Who could ask for more?