California Vacation 2011 - Day 14: Pacific Coast
Posted by: o'wolf 10 years, 11 months ago
Still catching up on vacation reports. This entry is about Friday, January 21st.
Kayjay found some information about World War II bunkers at the Pacific coast, so we went to see whether those can be visited. Unfortunately, the one near Gray Whale Cove is in the construction zone for the new CA-1 tunnel, no chance to park anywhere near it. Instead, we hit the nearby beach. Wow, those impressive waves! It almost felt like summer with sunshine and temperatures well above 20 °C. Swimming would had been too dangerous, but we spent quite a while enjoying the sun.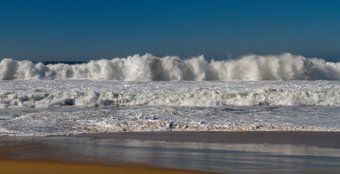 Since we didn't want to drive back to the city immediately, we took the short hike along the hills to Montara State Beach and back. Do we have some time left? Yes, we do! So I took the scenic detour via the CA-84 through the mountains. I have to admit, I only saw half of the great landscape as I had to concentrate on the very curvy and steep street, but: Wow. I didn't expect so much nature in such densely populated area.
Back at the hotel, we took the cable car to Fisherman's Wharf for some nice ice cream at Ghiradelli's and a short walk to Pier 39 afterwards.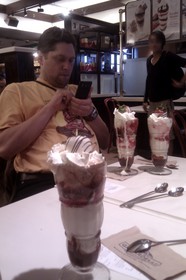 The pan handlers got more aggressive this year. Lousy musicians demanding to get payed to STFU, annoying shoeshine boys, sellers of stolen jewelry... Not a very good trend that can be observed mainly on the Wharf and on Powell Street between Union Square and Market. But I digress. The Musee Mecanique was still open when we got there, and they even have some new exhibits. Always a nice place to waste some time and quarters.
And finally, we met with Furvan again, who went shopping on his own again, and had dinner at the other Lori's Diner on Powell Street. The rest of the night was spent packing our luggage, as this was the last day of our vacation.