California Vacation 2011 - Day 4: Coronado
Posted by: o'wolf 12 years, 10 months ago
Coronado is an island next to San Diego. It is most famous for its beaches and the Art Nuoveau hotel, which is much more impressive on postcards than it is in reality.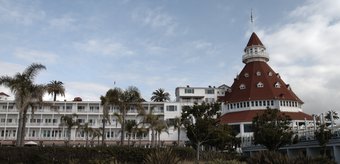 The high bridge connecting San Diego and the island is quite a sight, though. And spending an hour at the beach was quite relaxing, so visiting Coronado was not a disappointment after all.
Next, we spent some time shopping at downtown San Diego. The Horton Plaza Shopping Mall has a confusing layout and a terrible architecture, the shops are the same as in any other mall, though. Gaslight District itself apparently is only interesting if you want a drink or watch shows. We decided to have a steak for dinner at Outback, instead. Fortunately, San Diego is not very large, which makes spontaneous decisions easy.