Roadtrip 2012: Seattle and the Pacific Northwest, Part 5
Posted by: o'wolf 10 years, 11 months ago
I didn't find the time to update my journal during the last week of the trip, but of course I took photos and notes.

Monday, 2012-10-08
We spent the night at the KOA campground in Otis, OR, beautifully located next to the antennas of KBCH, um, I mean, next to Devils Lake. Granted, we were not much interested in the lake, and it is one of the few KOAs that is not located directly at a major highway. Much more interesting were the Tanger Outlet Center nearby in Lincoln City. We didn't buy much, though.
Next on our tour we took the Otter Crest loop, a scenic byway of the US101, with great views of the ocean and strange rocks. For example Cape Foulweather or
Devil's Punch Bowl. We took a lot of photos, though the light wasn't that good. I would have preferred a bit more fog, not just a cloudy sky.
We arrived just in time for the Yaquina lighthouse before closing for the day, or so we thought. So we paid the entrance fee, only to hear that they closed early due to the large number of visitors when we arrived. I know the tour guides are all volunteers, and I appreciate their effort, but this is not how you treat your guests. So we just took a couple of pictures from the outside and moved on disappointed.
And the bad luck with lighthouses continues. I didn't expect the Heceta Head Lighthouse to be open when we arrived in the last light of the day, but the lighthouse was covered with a tarp due to reconstruction work. At least the beach is beautiful, as is the small creek running into the ocean and the viaduct of the US101. And they removed the pay station for the parking lot during renovation, which is a nice gesture. If only they'd posted some information about the renovation at the oversize vehicle parking I'd be perfectly fine with it.
We arrived late at night at Ocean Side RV Park, Cape Arago, with free Wifi, but only for one device. But with a beautiful beach, as we discovered the next morning.

Tuesday, 2012-10-09: More Lighthouse Adventures
Another guest on the campground recommended Seven Devils State Recreation Site to watch birds. What he didn't tell us was that the direct way to it from the North turns into a winded gravel road not recommended for RVs at some point, so we stayed on the highway and approached the park from the South. The beach is really beautiful and long, but no other birds than a large flock of seagulls to be seen. A perfect place to relax nevertheless, at least at that time of year.
Not expecting much we continued our way to Cape Blanco. To our surprise, the really well preserved lighthouse was open and we got the tour to the lense. Cape Blanco Light is the oldest lighthouse in Oregon and still active. It doesn't have the original lens anymore, the current one was installed 1936 and had to be repaired after an act of vandalism. Opposed to the guides at Yaquina Light those at Cape Blanco (two former coast guards on that day) are highly motivated and share their knowledge about the history of Oregon lighthouses and the development of technology.
Still lots of time left, but we skipped Humbung Mountain as nobody was in the mood for a mountain hike. Instead we took a break at a beach on the way down South, the exact position sliped my mind, I have to check the GPS log for the exact position. All I remember it being windy and cold-ish and Mendra climbing rocks again...
Next stop: Dinner! We were looking for a fastfood joint, but didn't find any and ended up at a Chinese restaurant, Wing Wah, in Crescent City. The food there was a very positive surprise and quite different from what I'm used to. Half of the city seems to dine there, so it is safe to assume that it will be equally good on the next visit.
After quick visit to Home Depot for some more BBQ coal we went to our campground for the night, a KOA neatly located at the US101.

Wednesday, 2012-10-10: Redwood Hikes
Redwood National and State Parks is, as the name implies, not a single national park, but a collection of several federal and state parks. Unfortunately, the part with the famous big coastal sequoias is only accessible via a dirt road that is not recommended for RVs, so we went hiking at the less popular but equally beautiful Prairie Creek Redwoods State Park. The Big Tree is big, at least for a coastal sequoia, but less spectacular than giant sequoias. However, it is a historic landmark, the starting point for the preservation of this incredible forest.
We hiked 8 kilometers along the Brown Creek/Rhododendron/South Fork trail loop. The description of the hikes was "easy, except for one short steep section". Well, the maximum height difference was 180 m according to my GPS, on very short distance. The trails are clearly marked, but not well maintained. We had to climb over or under fallen trees a couple of times that have been lying there for quite a while, apparently. Not much of an issue for us, but maybe one for less experienced hikers.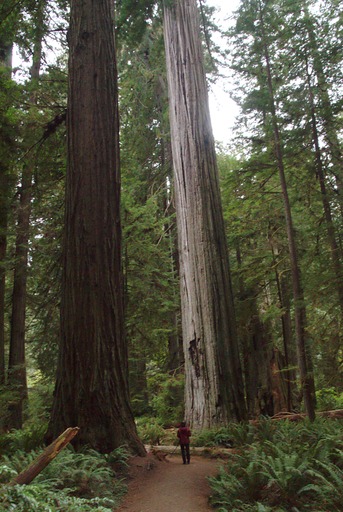 Not the Big Tree, it's boring.
My friends were impressed how silent this primeval forest is — I already had that experience at Sequoia Nat'l Park so it wasn't new to me, I found it more interesting what you can hear despite what we consider silence. Many wrens being slightly annoyed by our presence, for example. Banana slugs are silent of course, but found very often in these woods. The vegetation is quite what I expected, yet the atmosphere is surely unique. I think it was Lynard who quite appropriately compared it with Fangorn. We didn't see any trees moving from their position, though.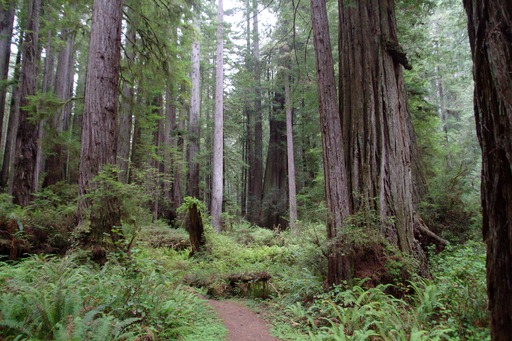 Prairie Creek Redwoods State Park
It was a very refreshing hike. The trekking toe-shoes are very good on forest trails, as long as you take care to not walk into your own hiking poles (ow!), step on roots with the midfood (ouch!), or along sharp rocks above the rubber sole of the shoe (Ow-ow-OW!) On the other hand (or foot?) walking grades is way less strenuous to the knees and hip as normal shoes.
The night was spent at a KOA North of Eureka, neatly located (who would have guessed) next to the US-101...