Improving the small shoulder support
Posted by: o'wolf 11 years, 5 months ago
Does anyone remember the shoulder unicycle? It used to be just an aluminum bracket to rest against the shoulder. Very simple and very effective.
In the meantime, I have added an L-bracket with a hot shoe mount for a microphone holder and purchased a Swit LED camera light which comes with an adapter for Sony L series batteries that has to go somewhere. Time for some improvements. Now it's a pimped shoulder unicycle: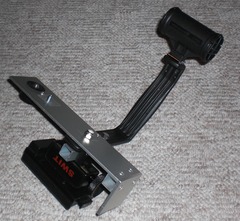 In retro-perspective I just could have bought a rail support. But where's the fun in that?