Roadtrip 2015: Yellowstone and more, part 2 - Geysers and a Wolf
Posted by: o'wolf 5 years, 9 months ago
Tuesday, 2015-09-15: Of Wolves and Coyotes
We stayed at the Red Lodge Comfort Inn for the night, and after breakfast we filled up gas and finally proceeded to the North-East entrance of the park over the Beartooth Pass. The NPS, every travel guide, every travel report I've read recommends this route, so if everybody else says we should do it, of course we will! Even though it started raining, and we were in the clouds on the plateau, it was really worth it, indeed. A mountainous landscape unlike every other I've seen.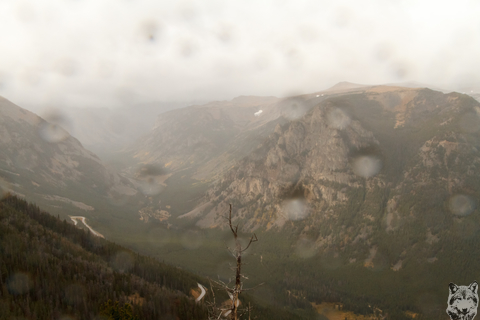 View from Beartooth Highway
Driving through Lamar Valley, no wolves to be seen. Oh well, I didn't really expect any, but it's beautiful anyway.

Lamar River
Approaching Hayden Valley, wait a minute, a photographer with a large prime lens, some folks with scopes and binoculars. Let's stop here. "Oh, and yes," the photographer with the large lens explains to the crowd, "there was a wolf shortly before, trotted off into the woods, but maybe..." And while the group keeps chatting, I look over the valley. Something's moving in the distance  at the river and it moves exactly like... A look through the viewfinder of my camera... "Um folks," I say, "it's right over there." The first day in the park and I see a wild wolf.
So I make some photos, the wolf slowly moves back to the thicket, we keep enjoying the beautiful afternoon, and after a while a coyote comes along. And marks every place the wolf has been. Someone likes living dangerously, it seems...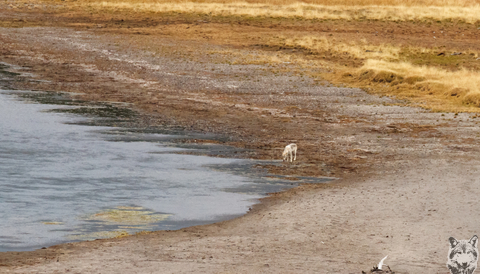 Wolf at Hayden Valley
Driving further, something's steaming on the benches of the Yellowstone River. Oh, it's called Sulphor Caldron. Interesstingly, it smells like clean sulphor, not like rotten eggs as I'd expect. And how cute, a tiny steaming sinkhole (read that again) in the parking lot. In fact, it's steaming everywhere out of every crack in the park.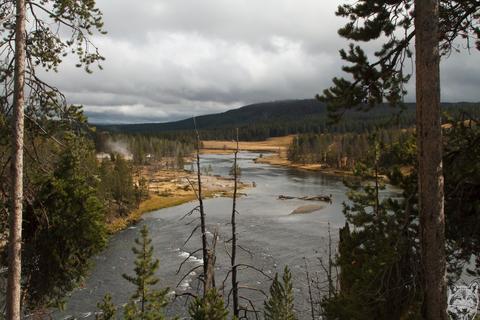 Yellowstone River near Sulphur Caldron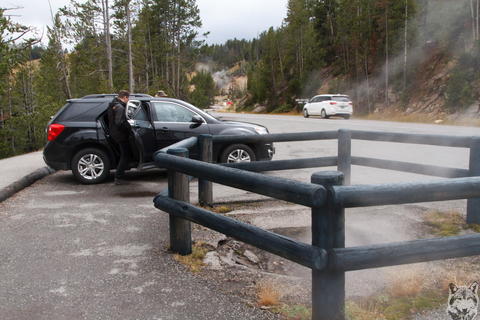 Fenced off sinkhole in the parking lot
Further South, Mud Vulcano. Lot's of steam, too. And bubbling mud, hence the name. The geological features of the park are amazing, even on the first impression.
Still light, yay! Fishing Bridge. Rather boring, I think, even though a small walk along the river is quite nice. Not too far in, as at some point the area was closed due to bear activity. Since we hadn't bought any bear spray yet, we didn't want to risk anything. It was getting late anyway, so we proceeded to Grant Village and checked in to the lounge.
Dinner that evening: a cup of ramen.
Wednesday, 2015-09-16: Old Faithful
The day begins with an angry red squirrel complaining in front of our window, breakfast out of our styrofoam box, picking up the backcountry permit, buying bear spray, and driving to the Old Faithful area. Just in time for the next eruption, even though it was rainy weather.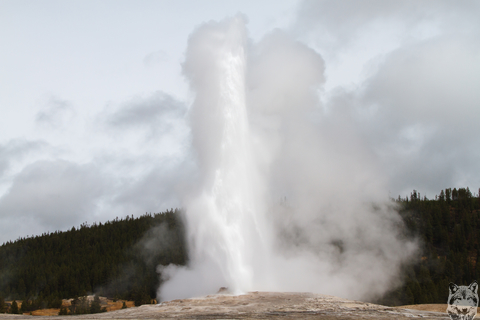 Old Faithful erupting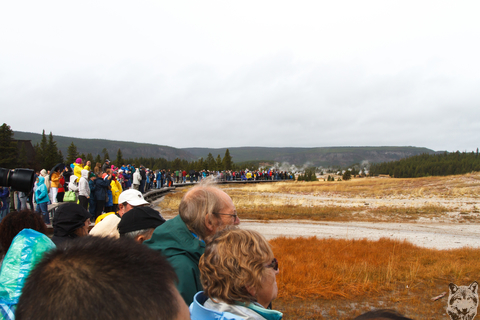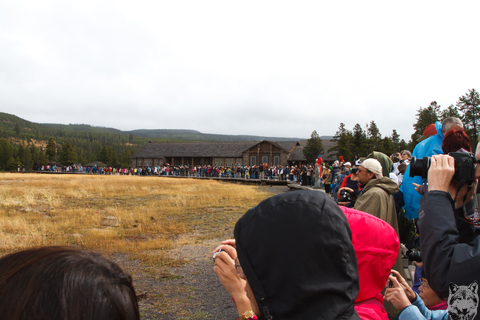 The crowd at Old Faithful
I had to defend my position against obnoxious Chinese bus tourists, but yes, the geyser is quite a view. We then walked along the Firehole River to the Rocket Geyser, and hiked the short trail to Observation Point from where there is a good view on Old Faithful. At that point it started to rain, which turned into a pour, so we bought a hot chocolate at Old Faithful Lodge.
After it stopped raining we decided to hike to Fairy Falls. Unfortunately, it started to rain again at Fairy Falls trail head, but we got some steamy view on Grand Prismatic Spring. Dinner at the Lake House restaurant. Great pasta, a glass of beer, and all that even affordable.