Roadtrip 2015: Yellowstone and more, part 1 - Salt Lake City
Posted by: o'wolf 5 years, 9 months ago
Saturday, 2015-09-12: Trains and Planes
I took an early train to Frankfurt airport. A few days before departure I read about all trains being diverted via Ansbach due to construction work on the main line, with the trip being half an hour longer than usual. Okay, still plenty of time in Frankfurt, but why wasn't that taken into account when I booked the ticket? And why does travel information still show the train arriving at the same time? Turns out, it started earlier in Nürnberg than usual, and that was already on my itinerary. Phew. That also explains why I wasn't able to reserve a seat earlier. The train had a different internal number from it's start point to Würzburg, and somebody forgot to add that information to the booking system.
And indeed, the train arrived on time, I met my friends at check-in, and we even had time for a coffee at the gate.
We flew with Delta, with a layover of two and a half hours at JFK. I was glad about that extra time. Immigration doesn't take that long anymore thanks to the electronic border control (a large number of kiosks that reads the passport, scans fingerprints, takes a photo and asks for the customs declaration information), but I strained my left foot two weeks earlier, and the way from terminal 4 to terminal 2 is quite long. Not exactly the best conditions for a hiking vacation, but, oh well. As long as it doesn't get worse...
Arrival in Salt Lake City late at night. Picking up the rental car took longer than anticipated as Alamo's computer network was down, but that too worked out. The car was a Chevy Equinox, as I hoped. The hotel was basically just around the corner, so not much driving needed.
Sunday, 2015-09-13: Salt Lake City
There was no way we'd drive 550 miles after such a long intercontinental flight, so we did some sightseeing in Salt Lake City. City Creek shopping center is closed on Sundays. I probably should've checked that earlier... We explored Temple District, but why was the big fountain turned off?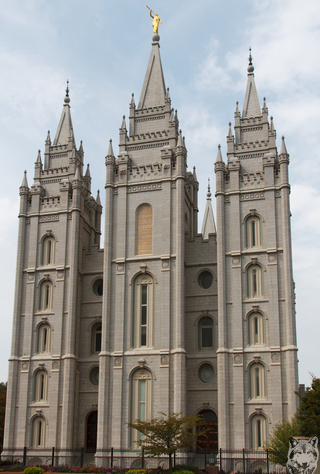 The Salt Lake Temple
Listened to someone rehearsing on the organ in the tabernacle, wow, that instrument has a very unique, warm sound. Took a stroll around downtown, got a coffee at a branch of a virtually unknown coffee shop from Seattle named after the chief mate of a famous novel... Well, nothing else except for the Irish and the Scottish pub was open.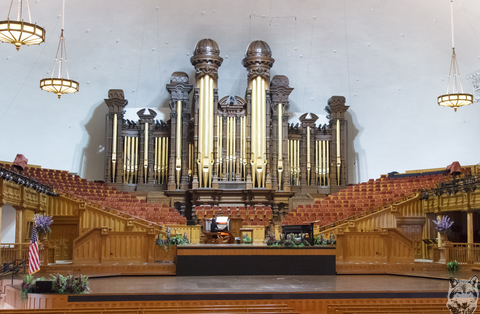 Salt Lake Tabernacle Organ
We then drove to the state capitol. Or rather, we tried to, as all streets were closed due to construction. So we parked at North Canyon and walked up the mountain and explored the area around the capitol. Same way back down and a short hike through the South part of North Canyon, carefully trying to not strain my foot further.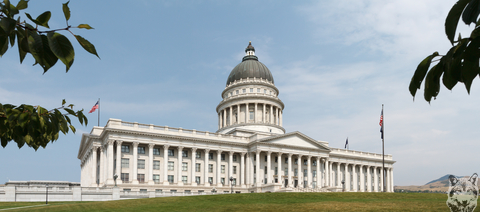 The Utah State Capitol
Next, shopping. First for some groceries and a styrofoam box at Walmart so we'd be mostly self-sufficient in the park. Oh, and they sell beer. In Utah. On Sundays. No questions for passports asked at the register, either. Then, after my satnav being confused by Utah street addresses again, completing our camping equipment at REI's and more groceries and beer bought at Dan's. Dinner at Ruby River, a Western steakhouse chain I know from previous visits. Perfect steak. And while we were in the area, a short visit to Trolley Square, but shops were closed and not that interesting, anyway. We called it a day and drove back to the hotel.
Monday, 2015-09-14: Across Wyoming's Basins
Got up in time, got some breakfast, and got on the road. With a short stop at the outlet center near Park City, where I got some running and cycling clothes. Driving the I-80 over the Grean River Basin further West, a tank stop in Rock Springs, following the rather boring US-191 to Farson, and then the very scenic WY-28, WY-789, WY-120/MT-72, MT-308 to Red Lodge.
WY-789 leads across Wind River Basin, a landscape someone from the Northwest of Germany, like me, will find strangely familiar. The route is especially scenic between Boyson Reservoir (near Shoshoni) and Thermopolis where it follows the Wind River through a narrow canyon. Of course, we don't have that in the Northwest of Germany.
It was a meditative drive, probably not touristy as there is not much more to see than grassland, but still better than most of the alternatives.
We had an early dinner at a Wendy's in Cody. Not a very beautiful town, but being near to the East entrance of Yellowston Nat'l Park it's probably an alternative for a hotel room outside the park without being too far away from its main attractions. We had other plans, though.