Roadtrip 2015: Yellowstone and more, part 6 - Lava Fields and a Salt Lake
Posted by: o'wolf 7 years, 9 months ago
Thursday, 2015-09-24: Craters of the Moon
This is a road trip after all, so let's hit the road and spontaniously decide to make a detour to Craters of the Moon National Monument. Okay, it wasn't that spontanious, we decided on that the night before, depending on how late we'd be in Idaho Falls. Actually, faster than we anticipated, so we drove through the arid rangeland of Snake River Plain until we reached the (cold) lava fields of Craters of the Moon. Interestingly, this is still considered being an active vulcanic area which lays dormant until the next eruption within the next 1000 years or so. It looks like a vulcano in Hawaii, but without the flowing lava. Is there any other place in North America like this? In any case, a strange area. Inferno Cone is basically a tall hill made of ash (a cinder cone), a trail leads to tree molds in a vast lava field, and we climbed through Indian Tunnel, a lava tube cave. No bats there, but the home of some feral pigeons that looked exactly like the Good Feathers...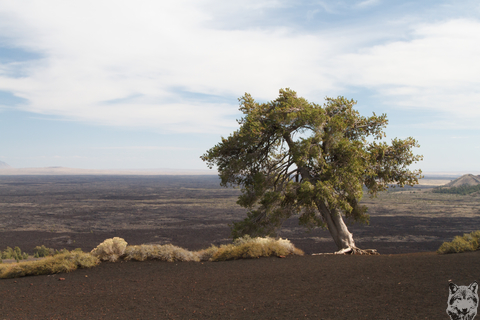 On top of Inferno Cone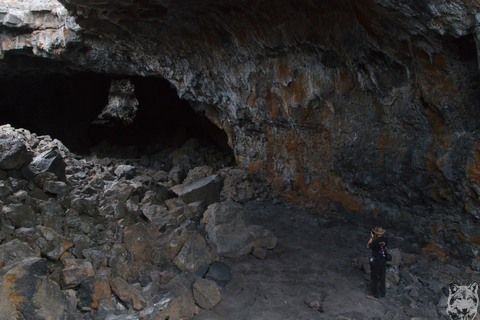 Kayjay entering Indian Tunnel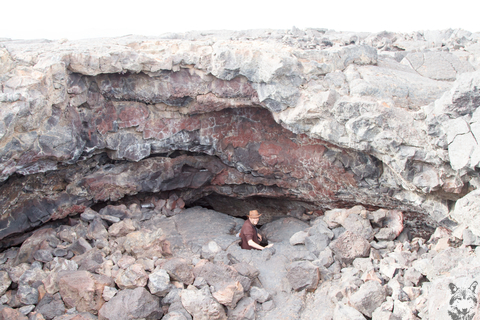 Lynard leaving Indian Tunnel
Craters of the Moon is definitely worth a visit if you're in the region and can spare a couple of hours. But remember to bring a hat, except for the caves there is no shade in the park.
On the way back to the Great Salt Lake area we decided to have dinner at Five Guys in Chubbuck. The town, located at the junction of Interstate 86 and Interstate 15, seems to be a giant shopping plaza. Exit 61 of the I-86 is a Diverging Diamond Interchange. As a road geek I knew that of course, but didn't say anything. Indeed, it confused Kayjay, who was driving. Very amusing.
Yay for mobile data. I booked a hotel room at the Best Western Plus in Uintah, near Ogden for the night while traveling further South. We arrived there rather late at night and went to bed.
Friday, 2015-09-25: Antelope Island
Oh, we still have one day left, how did that happen? Off to Antelope Island then. It is an island located in the Great Salt Lake, though to our disappointment the lake was almost dry this year.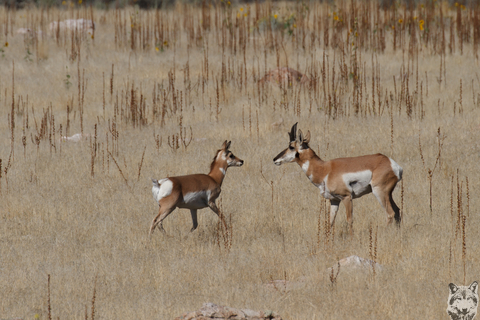 Pronghorns (Antilocapra americana)
A herd of pronghorns (the antelopes the island got its name from) was grazing right below the visitor center, which was a nice photo opportunity. We then hiked up Buffalo Point, which gives a nice panorama view over the island, the lake and the Wasatch Front. Unfortunately we had to abort the hike along White Rock Bay after 2.5 km, as it was way too hot and I already ran out of water.  Instead, we drove to the Fielding Garr Ranch, a historic ranch established 1848 and now a museum. American ranching in the early to mid 20th century apparently wasn't much different from Europe, we found out.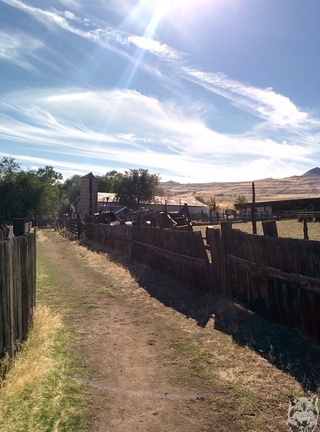 Fielding Garr corrals, silo and barn
The only bison we saw on the island was a bull in the fields near the ranch. However, we had tasty bison burger for (late) lunch at the Island Buffalo Grill.
The hotel for the night was again a Best Western Plus, located near the airport this time, and we took the supposedly scenic Legacy Parkway instead of the Interstate. It is not that scenic, but at least we didn't have to drive through SLC during rush hour...
Saturday, 2015-09-26: The Journey Home
The flight back was via Detroit, and the arrival gate of the flight from SLC was on one end of the terminal, and the departure gate of the flight to FRA on the opposite end. Fortunately, they built a tram in the terminal. Unfortunately, it was closed for maintenance. So we had to walk the entire 1.6 km. At least we had enough time. The flight to Frankfurt was pleasant again and on time. After picking up our luggage we said goodbye to Kayjay and waited for our train. It was quite packed, fortunately Lynard and I had seat reservations, though in different cars. In Nürnberg the Zarges box caught the attention of a stoned junkie who followed me almost home, but he eventually got distracted and buggered off. Welcome home.
Apart from this minor annoyance it was a memorable vacation, and while it was expensive, it was absolutely worth it.
Stay tuned for what we're going to do next year.
Blue: travelled by car (3500 km / 1900 mi), red: hikes (100 km / 63 mi)